MSI Katana 15 2023 is an ultra-thin gaming laptop that packs a lot of power in its sleek, lightweight form factor. It is powered by the latest 13th Gen Intel Core i7 processor, paired with an NVIDIA GeForce RTX 4050 GPU and 16GB of RAM to handle any type of gaming and multitasking needs.
The laptop also features a 15.6-inch FHD display with a 144Hz refresh rate for smooth visuals and an immersive gaming experience. With its premium design, powerful performance, and competitive price tag, the MSI Katana 15 B13VEK 2023 is one of the best gaming laptops available in Nepal right now.
MSI Katana 15 2023 Specification
Model
MSI Katana 15 B13VEK 2023
Dimension
Thickness: 24.9mm
Weight: 2.25Kg
Display
15.6 inch, IPS
Resolution:1920×1080 (FHD)
Refresh Rate: 144Hz
Processor
Intel Core i7-13620H,
CPU Core: 10C(6P + 4E), 16Thread
Clock Speed: 4.9GHz
24MB Cache memory
Graphics
NVIDIA GeForce RTX 4050
VRAM: 6GB GDDR6
Clock Speed: up to 2355MHz
Max Power: 105W
NVIDIA GeForce RTX 4060
VRAM: 8GB GDDR6
Max Power: 105W
Memory
16GB (8GBx2) DDR5 5200MHz
Configurable upto 64GB
Storage
1TB SSD M.2 PCIe NVMe
2x M.2 SSD slot
Ports
1x Type-C (USB3.2 Gen1 / DP)
2x Type-A USB3.2 Gen1
1x Type-A USB2.0
1x HDMI 2.1 (8K @ 60Hz / 4K @ 120Hz)
1x RJ45
Connectivity
Wi-Fi 6
Bluetooth v5.2
Battery
53.5 Whr
Power Adapter
200W
MSI Katana 15 2023 Overview
Display
The IPS 16-inch display on the MSI Katana 15 2023 (B13VEK) has a resolution of 1920 x 1080 pixels and a refresh rate of 144Hz.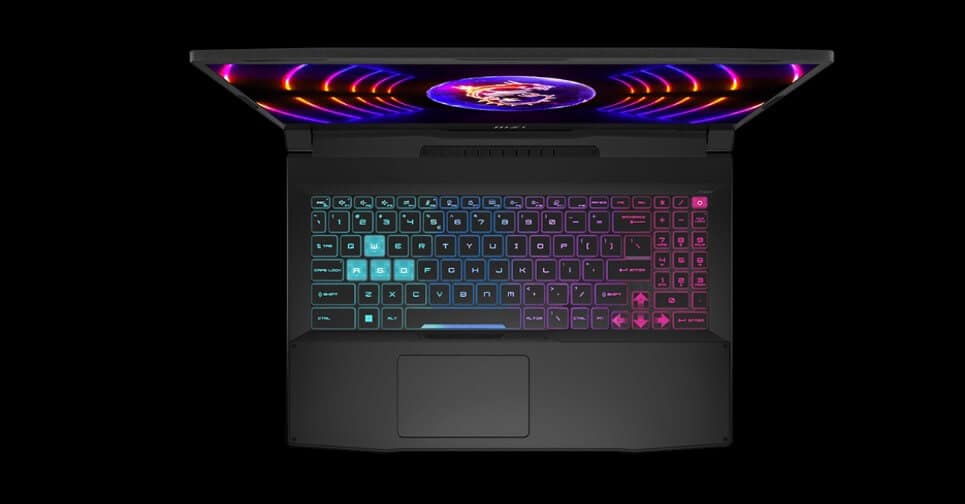 Performance
The 13th generation Intel i7-13620H CPU, which has 10 cores and a total of 16 threads, is what drives the MSI Katana 15 2023. Of its 10 cores, 6 are performance cores and 4 are efficiency cores. The maximum clock speed of the Intel CPU is 4.9 GHz. Additionally, the CPU has integrated Intel UHD graphics.
A dedicated NVIDIA GeForce RTX 4050 or NVIDIA GeForce RTX 4060 laptop GPU is also included with the MSI Katana 15 2023. In contrast, the RTX 4050 features 6GB of GDDR6 VRAM with a boost speed of up to 2355 MHz and a maximum power consumption of 105W. While the RTX 4060 has 8GB GDDR6 VRAM and a 105W maximum power rating.
Memory and Storage
Moving on to the memory, the MSI Katana 15 2023 has two slots that can accommodate up to 64GB of DDR5 memory running at 5200 MHz, as well as two M.2 SSD slots that support NVMe PCIe Gen 4 technology.
Connectivity
Speaking of connection, the MSI Katana 15 2023 has a GB LAN port, Wifi 6, Bluetooth V5.2, and more. The laptop also includes an audio jack, 1x Type-C, 2x Type-A USB 3.2 Gen 1, 1x Type-A, and 1x HDMI 2.1 ports, among others.
Battery and Other
The MSI Katana 15 2023 features with a 200W power adapter and a 53.5 Whr battery inside. Speaking of other features, the laptop includes a Windows 11 Home OS, an Intel PTT security chip, an HD camera with an E-shutter for privacy, and a 4 Zone RGB gaming keyboard.
MSI Katana 15 2023 Price in Nepal
Pre-orders for the MSI Katana 15 2023 may be made on Global Link Technology for NPR 2,05,000 for the i7 13th Gen/RTX 4050/16GB RAM/ 1TB SSD/ 144Hz refresh rate variation and NPR 2,20,000 for the RTX 4060 model.
Model
Price in Nepal
MSI Katana 15 2023 (B13VEK)
i7 13th Gen/ RTX 4050/16GB RAM/ 1TB SSD/ 144Hz
NPR.2,05,000
MSI Katana 15 2023 (B13VEK)
i7 13th Gen/ RTX 4060/16GB RAM/ 1TB SSD/ 144Hz
NPR.2,20,000